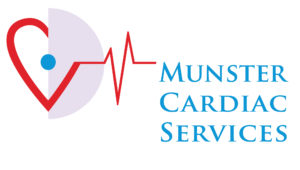 Welcome to Munster Cardiac Services which is based in the 4th Practice, MPHC, Mallow, Co. Cork. The clinic is operation since October 2013 offering Echocardiography, Exercise Stress Testing and 24 Hour Holter Monitoring under the clinical governance of Prof Tom Kiernan, Associate Professor of Medicine UL & Consultant Interventional Cardiologist. Dr Maheshwar Pauriah, Consultant Cardiologist, Mater Private Cork also attends the clinic.  The cardiac test available are
1. Echocardiogram
Echocardiogram is often referred to as an echo is a picture of the heart. Echocardiography uses standard two-dimensional, three-dimensional, and ultrasound to create images of the heart.
Echocardiography has become routinely used in the diagnosis, management, and follow-up of patients with any suspected or known heart diseases. It is one of the most widely used diagnostic tests in cardiology providing a wealth of helpful information. The simple test is non invasive and takes between 20 and 30 minutes to perform by applying a gel to the chest and a sensor  is moved over the chest area to produce an image of the internal structures of the heart.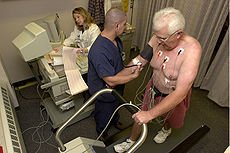 2. Exercise Stress Test
Exercise Stress Test is a test used to measure the heart's ability to respond to external stress in a controlled clinical environment.
The cardiac stress test takes about 40 minutes and is done with heart stimulation exercise on a treadmill with the patient connected to an electrocardiogram (or ECG). The level of mechanical stress is progressively increased by adjusting the difficulty (steepness of the slope) and speed. The Cardiac Technician examines the symptoms and blood pressure response.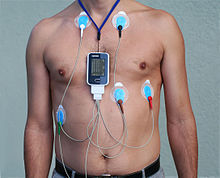 3. 24 Hour Holter Monitor 
24 hour Holter monitoris a portable device for continuously monitoring various electrical activity of the cardiovascular system for at least 24 hours
When used for the heart, (much like standard electrocardiography) the Holter monitor records electrical signals from the heart via a series of electrodes attached to the chest. These electrodes are connected to a small piece of equipment that is attached to the patient's belt or hung around the neck, and is responsible for keeping a log of the heart's electrical activity throughout the recording period. The holter monitor is fitted on the first visit and the removed 24 hours later on a second visit and each visit lasts about 10 minutes.
The clinic can be accessed by:-
Direct GP referrals for Echocardiography & 24 Hour Holter Monitoring
Exercise Stress Testing is available to all patients of GPs who have been reviewed by Professor Tom Kiernan.
The Cardiac tests are undertaken by our very experienced Senior Cardiac Technician Mary Murphy.
All Echocardiograms, Exercise Stress Testing recordings and 24 hour Holter recordings are reviewed and reported by Professor Tom Kiernan, Associate Professor of Medicine & Consultant Interventional Cardiologist.
A Technical report of any test is available on the day the test is undertaken. The Consultants report is posted to the GP Practices within 10 working days.
Testimonials
The following clients were vocal in their praise of Munster Cardiac Services
~~~
"I found the primary diagno­sis, secondary diagnosis, and confirmation very prompt, all happening within one week, I was hospitalised very quickly, and had double bypass surgery by the end of the second week which I though was pretty incredible. It was performed very well and at the moment I'm having follow up consultations with the Cardiologist. I'm huge­ly thankful to all at Munster Cardiac Services".
William from Mallow
~~~
"I couldn't speak more highly of them, they were just brilliant. Dr. Pauriah was lovely, and Nurse Mary could not have been nicer or more helpful. They made me feel very comforta­ble, and spoke to me in terms I could understand. Also, it's so convenient to just go to Mallow, and the service is very prompt".
Christina from Freemount
~~~
"I found it really convenient, they are efficient and I felt very confident in their care. Dr. Pau­riah is highly qualified. I was only waiting two weeks, they are very fast to diagnose and treat people. I had my tests done on the day I saw him which was great, and he gave me the results the same day which was brilliant peace of mind for me. I was very happy overall".
Sheila from Castletownroche
~~~
" It was my first time going for a check up for my heart and thankfully all was well. They were very good to me, Mary Murphy was excellent, she ex­plained everything and Dr. Pauriah was exceptionally good. Thankfully, my results were excellent, but I would highly recommend Munster Cardiac Services to anyone. In fact, the whole Primary Care Centre is a super place".
Nicholas from Banteer
Each test is competitively priced as follows:-
Echocardiogram – €130.00
Exercise Stress Test – €100.00
Holter – €80.00
Combined Echo and Stress Tests – €200.00
We welcome referrals from GPs by calling Munster Cardiac Services in the 4th Practice on 022-52944 or by fax on 022-20722.